By Swati Khandelwal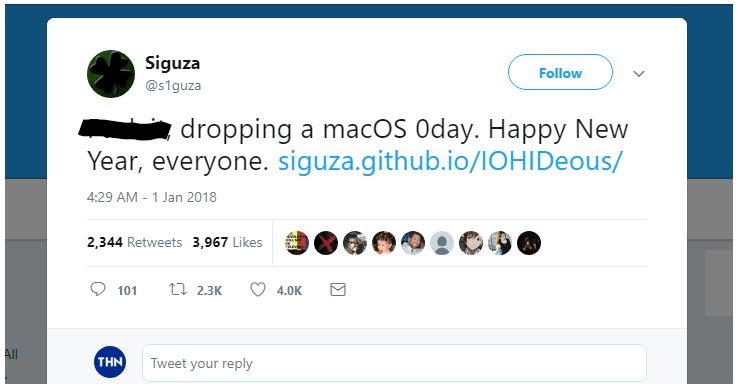 A security researcher on New Year's eve made public the details of an unpatched security vulnerability in Apple's macOS operating system that can be exploited to take complete control of a system.
On the first day of 2018, a researcher using the online moniker Siguza released the details of the unpatched zero-day macOS vulnerability, which he suggests is at least 15 years old, and proof-of-concept (PoC) exploit code on GitHub.
The bug is a serious local privilege escalation (LPE) vulnerability that could enable an unprivileged user (attacker) to gain root access on the targeted system and execute malicious code. Malware designed to exploit this flaw could fully install itself deep within the system.
From looking at the source, Siguza believes this vulnerability has been around since at least 2002, but some clues suggest the flaw could actually be ten years older than that. "One tiny, ugly bug. Fifteen years. Full system compromise," he wrote.
MORE: https://thehackernews.com/2018/01/macos-kernel-exploit.html