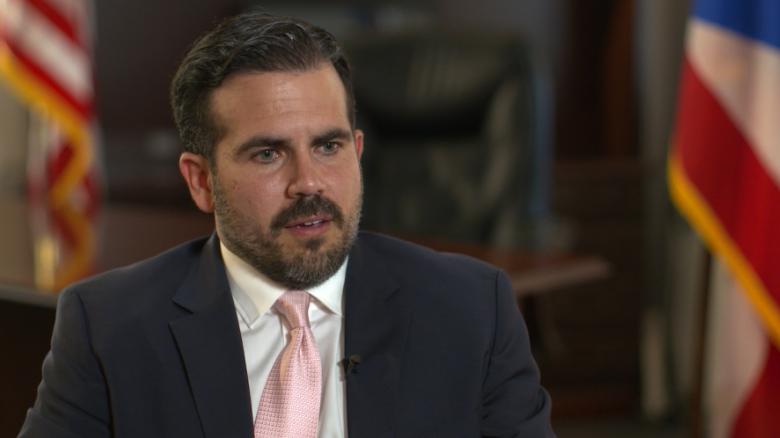 Calls for Puerto Rico Gov. Ricardo Rosselló to resign are growing after remarks he made in a private group chat were leaked, and more protests are being organized in San Juan.
On Sunday, one man yelled over a microphone, "We will kick you out," as other protesters filling the street in front of the governor's mansion in Old San Juan joined him chanting, "Ricky resign!"
 Demonstrators say they feel disrespected and deceived. Many believe the chats indicate corruption and that the governor violated their trust, they say.
The Center for Investigative Journalism published nearly 900 pages from the private group chat via Telegram.
The exchanges between the governor and his inner circle reveal a vengeful approach in running the government — including attacking journalists by discrediting stories and threatening to turn over political opponents to police.
The remarks also include derogatory terms against women — notably former New York City Council speaker Melissa Mark-Viverito — and homophobic comments targeting singer Ricky Martin.
When discussing the federal board responsible for managing Puerto Rico's financial crisis, Rosselló wrote, "Dear Oversight Board, Go F*** Yourself."
In the chat, Christian Sobrino Vega, then-Puerto Rico's chief fiscal officer and Roselló's representative on the federal board, expressed frustration with San Juan Mayor Carmen Yulín Cruz and said he wanted to shoot her.
"You'd be doing me a grand favor," the governor responded, according to the leaked chats.
Yulín Cruz belongs to the opposition Popular Democratic Party and is running for governor.
Sobrino Vega and Secretary of State Luis Rivera Marin, who also participated in the chats, have both resigned.
Rosselló said he will not resign.
More: https://edition.cnn.com/2019/07/15/us/puerto-rico-governor-protests-ricardo-rossello/index.html