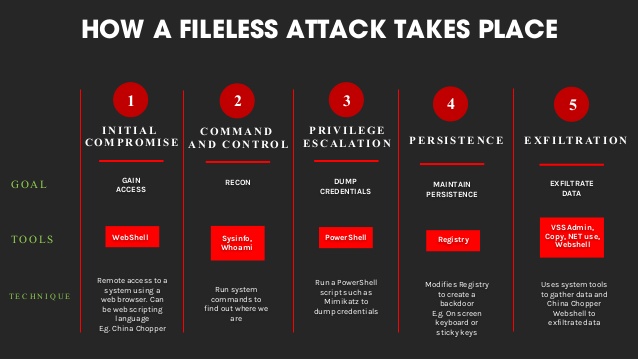 Non-malware attacks account for the majority of all attacks this year, and ransomware grows to a $5 billion industry, new data shows.
Fileless malware attacks using PowerShell or Windows Management Instrumentation (WMI) tools accounted for 52% of all attacks this year, beating out malware-based attacks for the first time, according to Carbon Black's 2017 Threat Report.
"Attackers will use whatever is the cheapest and most effective method," says Rick McElroy, security strategist for Carbon Black, explaining the shift to fileless malware from malware-based attacks.
Fileless malware attacks, also known as non-malware attacks, allow cybercriminals to skip steps that are needed to deploy malware-based attacks, such as creating payloads with malware to drop onto users' systems. Instead, attackers use trusted programs native to the operating system and native operating system tools like PowerShell and WMI to exploit in-memory access, as well as Web browsers and Office applications.
Fileless attacks have been around since 2014, and surged last year as attackers became enamored with in-memory attacks and sought to perfect their malicious craft. That trend continued this year, with a 6.8% growth in monthly fileless attacks targeting Carbon Black's protected endpoints.
MORE: https://www.darkreading.com/perimeter/fileless-malware-attacks-hit-milestone-in-2017/d/d-id/1330691