Based on the most modern security concepts and practices, we have the most complete Secure Communication Platform for information exchange in private and public organizations.
It has encryption at the source, guaranteeing the security of the information in transit and at rest.
Unlike military-use tools, access is simplified and provides the user with a user-friendly experience when exchanging messages, chatting, making video calls, voice calls, and storing and sharing documents.
Our Platform has a design that ensures low complexity in implementation and user onboarding, with a focus on prevention and information preservation.
The Platform is composed of the Sikur Messenger application and/or a smartphone (composed of a set of software, policies and security guidelines), factory certified by Sikur engineers, observing the most modern security guidelines. Unlike an ordinary device that by default is open and easy to have its settings modified, which can allow the introduction of malicious artifacts, opening the door to data leakage and espionage, Sikur One comes prepared to mitigate these threats.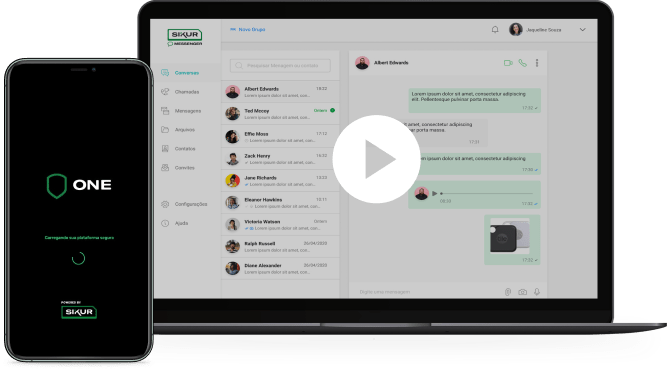 Regulatory
We develop solutions based on best practices and security policies, and in compliance with the General Data Protection Laws
Zero Trust
We use the concept of Zero Trust – which assumes no trust in networks, devices or users, and requires constant, real-time authentication of users accessing data.
Prevention
Our solutions focus on Preventing, not Remedying problems
Complexity
Our solutions are low complexity, quick setup and easy onboarding.

Continental bans WhatsApp over privacy worries
Source: Financial Times, 2019 JPMorgan hit with $200 million in fines for letting employees use WhatsApp to evade regulators' reach
European Commission calls for encryption backdoors for freemium messaging apps.

AVB – Android Verified Boot
Controls OS updates to different partitions, protecting against attacks that attempt to install earlier and vulnerable versions of Android
Device Encryption
If the device falls into the wrong hands, data stored locally will be safe
Application Store
Does not allow installation of third-party, insecure stores
Restricted Bootloader
No unlocking of fastboot flashing, keeping the device protected
Settings: Network
To strengthen the system, some default network settings have been modified to improve security
Password Setup
Delete the device after 5 unsuccessful attempts
Use of biometrics imposed
Data Security
Blocks screen capture
Restricted input methods
Device Features
Blocks printer usage
Blocks Bluetooth sharing
Turn off Localization
By default, turns off location services, ensuring that only those allowed by the user will work
Remote Wipe
Remotely erase all data and recover sensitive, encrypted data in the Sikur cloud
Operating System Update
Mandatory Update
Unnecessary Apps Removed
Keeps your device light and safe, with only the apps you need
Application Compliance
Controls the installation of applications as defined by the Company
Locks the device if it is not in compliance with the Company
Developer Option
Blocks USB file transfer
Physical media block mounting
Device Security
Disables remote input
Blocks factory reset
Enables device localization
Blocks the user for misuse
Blocks personal applications, if not in compliance
Sikur Messenger Resources
Chat
Individual or group.
Sending files.
Sending contacts.
Voice messages.
Forwarding messages.
Selecting specific excerpts from the conversation for clearer dialog.
Deletion of messages sent by mistake.
Clickable URLs.
Voice and video calls.
Automatic absence messages.
Deletion of history.
Profile customization with image and contact information.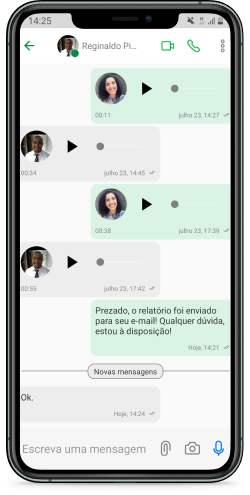 Voice
History of completed, incoming, and missed calls.
Call silencer.
Speakerphone.
Preview of messages or documents during a call-in progress.
Audio conference.
Automatic reconnection in case of instability or connection change.
Documents
Organization in folders.
Identification of files by file extension type.
Intelligent background uploading.
Sharing with other users in the organization.
Smartphone download and editing.
Secure sharing with third-party apps.
Messages in e-mail format
Read/Unread/Favorite bookmarks.
Sending and downloading attachments.
Setting message expiration for one or more recipients.
Message search.
2 End-to-end encryption and
private cloud storage
3 Certified by the
Sikur team
Privacy by design
All Sikur solutions are designed based on international data protection and privacy standards (such as GDPR and LGPD), which guarantees organizations and governments the avoidance of fines and a competitive advantage in the market.
Privacy and Data Protection.
Audit.
Data processing.
Data Loss Prevention – DLP.
Secure Managed File Transfer.
Cybersecurity best practices.
Authenticity and Identity Management.